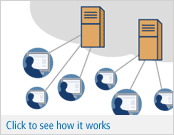 Providing a personalized user experience that encourages consumers to browse and buy requires richer content and applications that are assembled dynamically. While highly effective, richer content slows page downloads and can even lead to site abandonment. That's why companies like Ross Simons, Jos.A.Bank, and others look to Akamai to help. Our Dynamic Site Accelerator is giving customers performance that is up to five times faster than their original Web infrastructure. Best of all, with the global Akamai platform, you don't need to invest in a costly hardware build-out to support the increased load brought on by richer content.
What's Included
Ensures high performance and reliability of dynamically-rendered, personalized Web sites
Secured outsource service that eases the burden and costs of storing content.
Reduces the demand on your origin servers by running Web applications on Akamai's platform.
Is richer web content slowing down your site?

Akamai's Dynamic Site Accelerator…
Improves customer experience by making your site faster and more reliable
Increases browser to buyer conversion rates through faster site performance
Reduces infrastructure costs by offloading traffic from your web infrastructure
Reduces call center load by processing more orders over the web
Scales to meet seasonal/promotional requirements
Helps protect content and reduces security risk
Reduces infrastructure costs